Shopping Cart
Your Cart is Empty
There was an error with PayPal
Click here to try again
Thank you for your business!
You should be receiving an order confirmation from Paypal shortly.
Exit Shopping Cart
Where It All Starts With Nurturing Relationships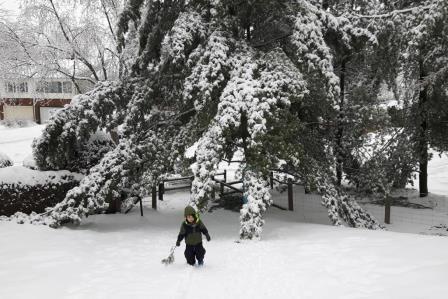 After the Christmas holidays, this week felt relaxed and easy flowing as we settles back into the daily and weekly rhythm. Following are some highlights and what I was focussing on this week.
We explored at the entrance into the greenbelt after the freezing rain. The kids were fascinated by the branches hanging down and the broken branches. We stayed in the open area for only ten to fifteen minutes. Then we came back to the house and played in the front yard until it is time to come in. Some of the little ones played in the snow and some of them ``helped` me shovel the walkway.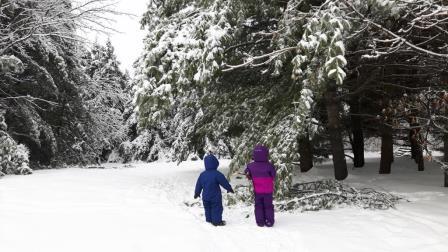 This week the little one`s were quite enthusiastic about Dr. Suess's ABC and singing the alphabet song together. The rhyming helps develop their phonological awareness and of course all the letters in the book help with letter recognition. Building upon their interest, I hope to extend their learning by introducing another alphabet book, Chicka Chicka Boom Boom. I also have some cut-out letters to provide during creative crafting that builds on their interest and increasing ability with the glue sticks that I started giving them before the holidays.
I had fun alongside their painting this week. When they are painting, I am hoping to provide an opportunity for so much more than fine motor skills. I am trying to build on both the toddler's desire to explore movement and the consequences of their actions with their paintbrush and paint (cognitive). I am also hoping to provide a more complex opportunity to engage and develop the preschoolers observation and representation skills (cognitive).
I read once that the rationale for teaching colours was to develop their observation skills, but there is a much greater opportunity for observation when moving beyond the standardized colours.  There is even more opportunity for observation when allowing to find out for themselves what happens when they mix colours together.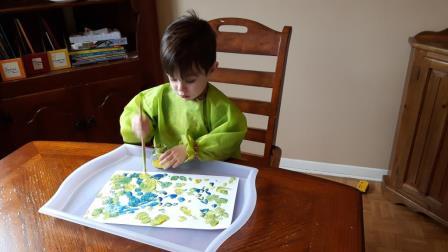 I have tried painting with the colours in a glass jar, but I noticed it was challenging for them to mix and challenging to really observe what was happening with the colours. I decided to mimic an artist's palette, so I put the paint on a plate. Not only did this provide more opportunity to use the colours in different ways, either individually or by mixing, but it also provided more opportunities to observe the colours blending and changing. I am hoping to increase the complexity of the colour mixing and maintain their interest, by moving beyond the secondary colours and learning how to create tertiary colours next.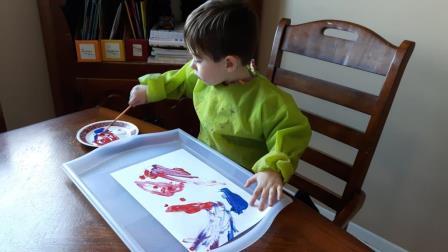 Using ELECT (2007), this activity provides an opportunity to develop all but two aspects of their observation skills:
visually attending to things in their environment
focusing their observations on details
increasing the time they spend observing
naming and describing the things that they have observed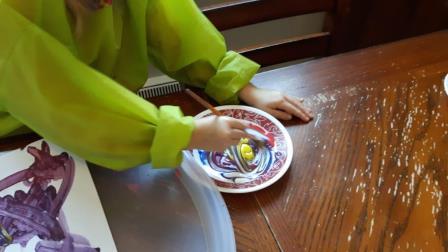 The two skills that are missed, I just don't think can be provided for during painting: using all senses to gather information while observing and using specialized sources and books as a means of extending their observations.
And of course, painting provides an opportunity to learn about the science of colour theory and artistic expression. Self-expression, i.e. expressing our ideas, thoughts and feelings, is the cognitive skill behind art. In ELECT (2007) this is an indicator of the cognitive skill, representation: beginning to use art media and tools to express their ideas, feelings and experiences.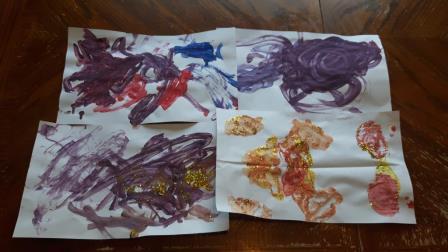 I figure this approach will also be adaptable when I have older infants or younger toddlers in my care because it will allow them to paint with their fingers or a brush. And as a bonus, I found it easier to prevent wasting paint as I add more in small amounts only as needed. And finally, with less paint, it makes a mess I can live with, if they dump it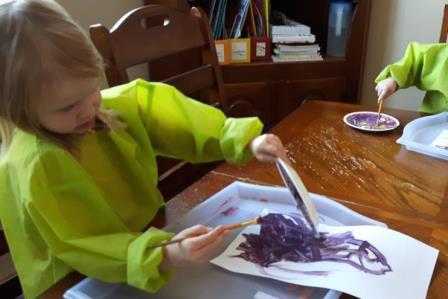 This morning was fun! And the best part was that getting outside, exploring and discovering is exactly what the Ministry of Education is expecting of child care programs. In How Learning Happens: Ontario's Pedagogy for the Early Years, the Ministry sets out expectations and goals for child care programs. One of the intentions of How Learning Happens described on page 15 is to "help educators become researchers and co-learners with children, parents, caregivers, and colleagues – learning about children, with children, and from children."
Co-learning is about learning with children, but I still find that idea makes it feel like work. Instead, I much prefer and find it much more enjoyable and natural, to think about the idea of co-discovering or engaging in discovery alongside the children.
The Ministry continues on page 15 of How Learning Happens to describe how they expect child care programs to "provide environments and experiences to engage children in active, creative, and meaningful exploration, play, and inquiry." And, I'm sorry, but indoor environments cannot, they just cannot, replace the complexity of the natural environment with the continuous changes of texture, colour, sound and feeling throughout the seasons, not to mention the diversity of meaningful opportunities for discovering the natural world around us.
And wow, this morning was full of discovering, engaging and learning! Check out the photos!
First, we discovered one of the trees near the wetland almost chewed through by a beaver. I wonder when we will discover it completely cut off and perhaps moved by the beavers?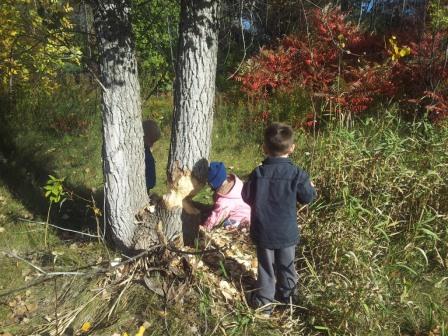 Then, we went to the bridge where the fall colours are emerging and the sun and the breeze felt warm on the face. The kids have been discovering milkweed pods. Have you ever opened a milkweed pod? I haven't. It turns out there is a beautiful array of seeds when you open the pod and the seeds are attached to these incredibly soft strands (I don't even know what they are called), to help the seeds be carried by the wind.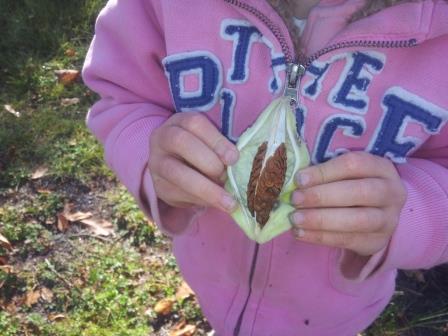 This is exactly where I could come in as a co-learner and researcher with the kids and look up the names of all of these parts of the seed pods, so when they open a milkweed pod next time, instead of saying wow, "that" is so soft, I can actually have the correct name. I could also look on youtube to see if I could find videos showing milkweed seeds be carried by the wind or a video showing how monarch butterflies use the milkweed in the summer. Or even better, next summer we could observe the milkweed in the field along the trail to see if we can discover any monarch butterflies or other species using the milkweed or simply observe the milkweed throughout its life cycle from spring until fall.
And the discoveries didn't stop there! Then the Canada Geese started flying right over our heads, 4, 6 and a dozen or more at a time, low in the sky so we could make out the details of their colouring. We could almost feel them as they passed overhead and we watched how they do this twist and turn with their wings and their body before they dove down for a landing in the pond. It was so cool! When we arrived at the bridge there were only a dozen or two of geese in the pond and when we left, I think I can fairly say that there were a hundred or more. And the continuous chorus of their calls filled the air around us. Ok, so awesome! It's too bad I don't have a better camera on my phone, but I did my best to get a photo so you can see what I mean.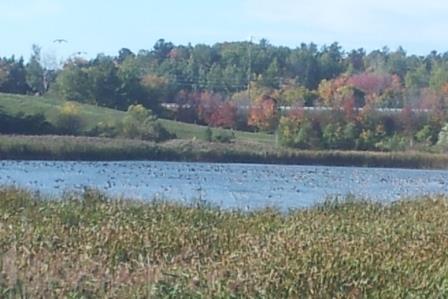 I did get a video of what happened and you can watch it. Just a warning though, turn your volume down first, because as you can tell I am a bit excited about this, and the volume of my voice is a bit much at one point. Also, I'm disappointed that I accidently filmed it sideways but we already know that I am here to care for your child and support their learning and development and am not a videographer. That being said, the video still captures our experience this morning very well!
- I'm having technical difficulties, I will post the video as soon I figure it out -
"So, get outside, get into nature and make your own discoveries!"
- Dinosaur Train -
/