Shopping Cart
Your Cart is Empty
There was an error with PayPal
Click here to try again
Thank you for your business!
You should be receiving an order confirmation from Paypal shortly.
Exit Shopping Cart
Where It All Starts With Nurturing Relationships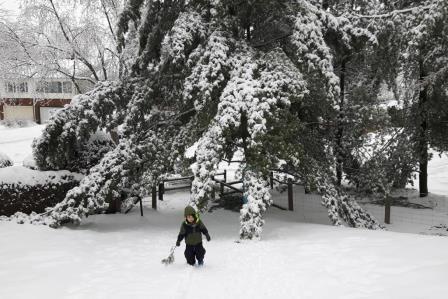 After the Christmas holidays, this week felt relaxed and easy flowing as we settles back into the daily and weekly rhythm. Following are some highlights and what I was focussing on this week.
We explored at the entrance into the greenbelt after the freezing rain. The kids were fascinated by the branches hanging down and the broken branches. We stayed in the open area for only ten to fifteen minutes. Then we came back to the house and played in the front yard until it is time to come in. Some of the little ones played in the snow and some of them ``helped` me shovel the walkway.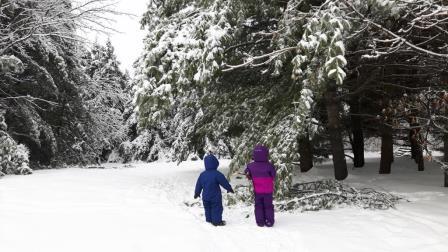 This week the little one`s were quite enthusiastic about Dr. Suess's ABC and singing the alphabet song together. The rhyming helps develop their phonological awareness and of course all the letters in the book help with letter recognition. Building upon their interest, I hope to extend their learning by introducing another alphabet book, Chicka Chicka Boom Boom. I also have some cut-out letters to provide during creative crafting that builds on their interest and increasing ability with the glue sticks that I started giving them before the holidays.
I had fun alongside their painting this week. When they are painting, I am hoping to provide an opportunity for so much more than fine motor skills. I am trying to build on both the toddler's desire to explore movement and the consequences of their actions with their paintbrush and paint (cognitive). I am also hoping to provide a more complex opportunity to engage and develop the preschoolers observation and representation skills (cognitive).
I read once that the rationale for teaching colours was to develop their observation skills, but there is a much greater opportunity for observation when moving beyond the standardized colours.  There is even more opportunity for observation when allowing to find out for themselves what happens when they mix colours together.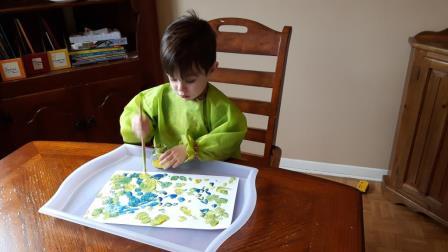 I have tried painting with the colours in a glass jar, but I noticed it was challenging for them to mix and challenging to really observe what was happening with the colours. I decided to mimic an artist's palette, so I put the paint on a plate. Not only did this provide more opportunity to use the colours in different ways, either individually or by mixing, but it also provided more opportunities to observe the colours blending and changing. I am hoping to increase the complexity of the colour mixing and maintain their interest, by moving beyond the secondary colours and learning how to create tertiary colours next.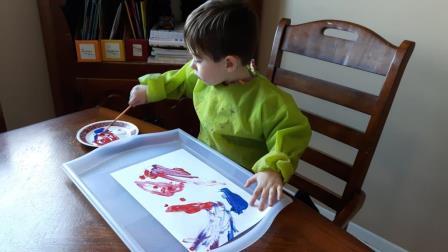 Using ELECT (2007), this activity provides an opportunity to develop all but two aspects of their observation skills:
visually attending to things in their environment
focusing their observations on details
increasing the time they spend observing
naming and describing the things that they have observed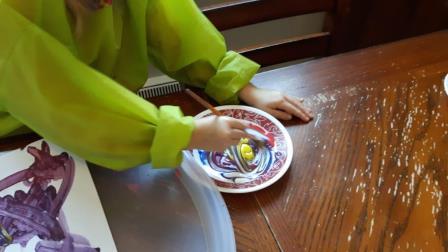 The two skills that are missed, I just don't think can be provided for during painting: using all senses to gather information while observing and using specialized sources and books as a means of extending their observations.
And of course, painting provides an opportunity to learn about the science of colour theory and artistic expression. Self-expression, i.e. expressing our ideas, thoughts and feelings, is the cognitive skill behind art. In ELECT (2007) this is an indicator of the cognitive skill, representation: beginning to use art media and tools to express their ideas, feelings and experiences.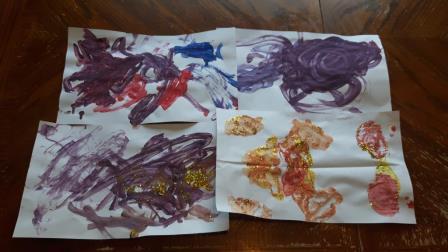 I figure this approach will also be adaptable when I have older infants or younger toddlers in my care because it will allow them to paint with their fingers or a brush. And as a bonus, I found it easier to prevent wasting paint as I add more in small amounts only as needed. And finally, with less paint, it makes a mess I can live with, if they dump it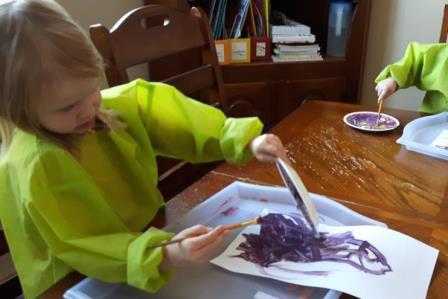 The early years provides the foundation for being successful in school and in life. I have also seen the early years referred to as the developmental years, which I like, because it makes it clear that the emphasis in the early years is on development goals and not academic goals.  One developmental goal in the early years, is developing pre-writing abilities or skills.  When these skills are adequately developed a chid will then be able to hold a pencil and write using a tripod grasp.  
To enable children to form a tripod grasp on a pencil between four and seven years of age, they first need to adequately develop the different abilities or skills.  During a workshop on pre-writing skills, the Ontario Parent Resource Centre stated that encouraging "proper" pencil grasp before these abilities are adequately developed often will lead to children developing unusual grasps or even discourage children's interest in drawing and/or writing. So it seems that the best way to help our young children in the developmental years learn to write effectively (later on), is to focus on developing the pre-writing abilities.
When watching children use markers or crayons, it seems that there is less opportunity to develop these pre-writing abilities as it goes directly at requiring a certain grasp, which could result in them developing the wrong grasp. Waldorf early childhood programs have an alternative to stick crayons and markers, the block crayon.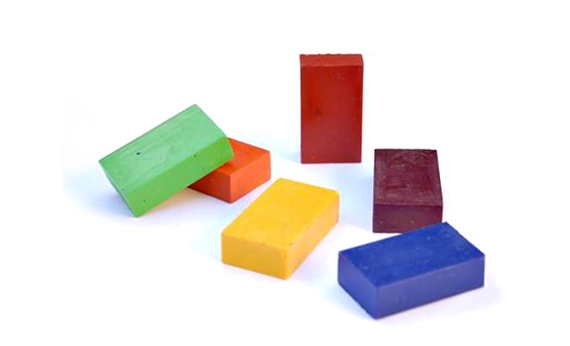 After watching tutorials about using block crayons and reading about them, block crayons look like they will provide an opportunity to develop the pre-writing abilities more effectively and hopefully will provide a better foundation for the little ones in my daycare to form a proper tripod grasp later on. These are the pre-writing abilities:
1) To hold something in your hands while using your fingers ( e.g. sort items into a container using a pincer grasp)
The block crayon is held in the fingers and hands and any edge or surface of the block may be used. Markers or stick crayons, for the most part, only provide one surface to draw with.
2) To use different amounts of pressure (e.g. use tweezers to pick up objects without denting them)
The block crayons are made of beeswax and appear to provide a greater range of contrast depending on the amount of pressure applied compared to regular wax crayons. Also, when too much pressure is applied to traditional stick crayons they break. The number of online posts and tutorials with suggestions for how to use broken pieces of crayons are a testament to have frequently this happens. Online reviews for block crayons suggest that bock crayons are quite unlikely to break and often can last many years.
Markers provide almost no opportunity to experiment with different amounts of pressure. Whether you press firmly or softly, the mark on the page is the same.
3) To have general hand development, including the arches of the hands (e.g. roll a ball of playdough in the hands or roll a set of dice)
Markers and stick crayons are intended to be held in only one manner and do not provide an opportunity for using the palm of the hand. Block crayons do provide the opportunity to use the palm of the hand for drawing.
4) To develop wrist strength and ability (e.g. use a roller to flatten playdough)
I am not entirely sure if block crayons provide a greater range of motion in the wrist then with stick crayons or markers, but it is at least comparable.
5) To have hand strength (e.g. string beads) and to develop the ability to manipulate objects with the finger tips (e.g. open jars or containers)
Again, markers and stick crayons are intended to be held in only one manner and do not provide different edges or surfaces for drawing. Block crayons, on the other hand, can be held and manipulated with the finger tips to change surfaces or edges for drawing.
For more information on the pre-writing abilities, you can download the resource From Scribbling to Writing: A Guide to Fine Motor Development from the OPRC.
Also, I have observed the toddlers in my care, when presented with different colours to choose become pre-occupied with making choices e.g. changing colours. I am hoping that with more  edges to use for drawing, they can assert their desire to make choices through exploration of the different drawing effects that the block crayons make. And in turn, if their focus is on the drawing and the different effects they can make with colour, hopefully that will that result in a richer and more meaningful art experience overall.
If you are interested in giving block crayons a try, I had a very positive customer experience shopping with Maple Rose, a Canadian supplier of materials used in waldorf early childhood programs and schools.  And as you probably are guessing right now, they are more expensive then typical wax crayons, definitely. At the same time, they are made from beeswax, a natural material, and they typically last much longer then stick crayons. Finally, if they are more effective for developing children`s pre-writing abilities and enhance children`s artistic experiences at the same time, then in my opinion, it is money well spent.  
/