Shopping Cart
Your Cart is Empty
There was an error with PayPal
Click here to try again
Thank you for your business!
You should be receiving an order confirmation from Paypal shortly.
Exit Shopping Cart
Where It All Starts With Nurturing Relationships
Welcome to my blog at Sarah's Family Daycare.  I enjoy exploring the early childhood literature and enhancing my abilities to support children's learning and development.  It is my hope that my articles will help you in your parenting journey or your child care endeavour.  I look forward to hearing your comments, questions and feedback.
Sarah's Family Daycare is currently full.  Please contact me to be added to my waiting list and I will notify you when a space becomes available.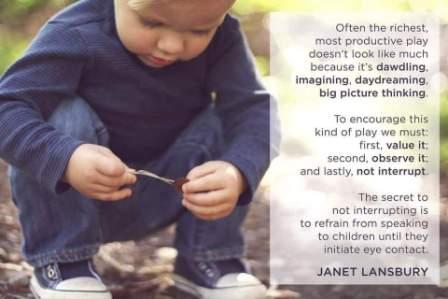 I saw this photo on Facebook last week and I felt quite validated, because I often stand back silently observing the children dawdle and meander while we are outside. I sometimes feel as though I should do something to add value or extend their learning or to keep going. So, I apprecia...
Read Full Post »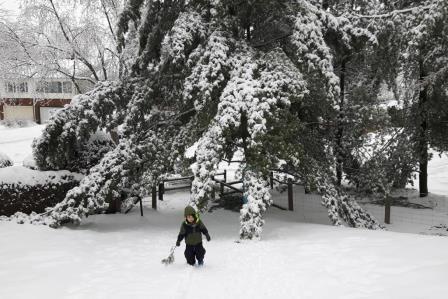 After the Christmas holidays, this week felt relaxed and easy flowing as we settles back into the daily and weekly rhythm. Following are some highlights and what I was focussing on this week.
We explored at the entrance into the greenbelt after the freezing rain. The kids were fascinated by the branche...
Read Full Post »
This morning was fun! And the best part was that getting outside, exploring and discovering is exactly what the Ministry of Education is expecting of child care programs. In How Learning Happens: Ontario's Pedagogy for the Early Years, the Ministry sets out expectations and goals for child care programs. One of the intentions of How Learning Happens described on page 15 is to "help educators beco...
Read Full Post »
The early years provides the foundation for being successful in school and in life. I have also seen the early years referred to as the developmental years, which I like, because it makes it clear that the emphasis in the early years is on development goals and not academic goals.  One developmental goal in the early years, is developing pre-writing abilities or skills.  When these skills are adequately developed a chid will then be able to hold a pencil and wri...
Read Full Post »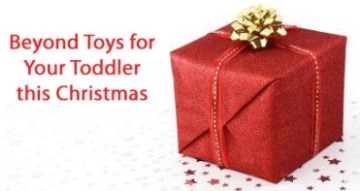 November has come and gone and for those of us who celebrate Christmas, the season for buying gifts is in full swing. If it is just something you want to buy, that's great. But, what if you are wondering what should you buy? Probably every toy out there boa...
Read Full Post »
/